Course Model: University of North Carolina Becoming a Professional: Exploring Skills & Transition into Practice
SYLLABUS**
SYLLABUS (version 1/1/15)
BECOMING A PROFESSIONAL:
EXPLORING SKILLS AND TRANSITION INTO PRACTICE
University of North Carolina School of Law, Law 483-001 (3 credits) Spring2015
Mondays 3:10-5:10 p.m., Room 4082 (January 12-April 13, 2015) and January 31 (offsite)*
**Please note: This syllabus may be subject to revision. This version is dated December 29, 2014.
INSTRUCTIONAL TEAM AND PARTNERS
Instructors
Judith Welch Wegner, Burton Craige Professor of Law, Room 5074

Phone: (919) 962-4113 (work), (919) 929-5024 (home), Email: judith_wegner@unc.edu

Office Hours: Tuesdays and Thursdays 2:20-3:45 and by appointment
Ms. Celia Pistolis, Assistant Director of Advocacy and Compliance, Legal Aid of North Carolina, Inc.
Phone: (919) 802-5707 (home) 919-856-2133 (work), email: celiapistolis@gmail.com
Legal Services of North Carolina Partners Gray Wilson (336-723-9147; grayw@legalaidnc.org) LANC attorney and technology expert)
Teaching Assistant for work with A2J and HotDocs: Warren Wegner (wwegner@nc.rr.com, 919-929-5024)

Technology assistance also available through CALI's YouTube Channel: https://www.youtube.com/channel/UChUUmc-XVA23MfdSeB2gXpw
COURSE PREREQUISITES: None
COURSE WEBSITE: The course will use TWEN – The West Education Network – as its website and course management system. You can access the site by logging into Westlaw at http://lawschool.westlaw.com and selecting the TWEN tab. You should see the course listed among your courses. If you do not, please contact Judith Wegner (Judith_wegner@unc.edu) and she will assist you. You may want to review the TWEN documentation available at
http://lscontent.westlaw.com/images/content/documentation/TWEN_Student_Guide.pdf.
*COURSE CALENDAR: As indicated above, the course will meet on Monday afternoons from 3:10-5:10 p.m., with the following exceptions: Rev. Martin Luther King, Jr. Holiday (January 19, 2015). Monday March 30 will be an optional work session. There will be a mandatory (unless excused for good cause) course mini-retreat offsite on Saturday, January 31 (from 9:30-3:30) at the Rizzo Center in Meadowmont in Chapel Hill. Students will also be asked to arrange for office meetings with Prof. Wegner once or twice during the semester.
ATTENDANCE POLICY: Attendance is required except for excused absences. Failure to attend more than one class session without being excused may lead to a grade penalty. Attendance at the retreat is required. Repeated failure to attend may lead to a decision by the professor to drop the student from the course or impose a lower grade.
READING ASSIGNMENTS: There is no required course book for this seminar. Instead, reading assignments will be available on TWEN. Please prepare for discussion as assigned
HONOR CODE OBLIGATIONS: The Honor Code is in effect in this class and all others at the University. I am committed to treating Honor Code violations seriously and encourage all students to become familiar with the terms of the Code set out at http://instrument.unc.edu. If you have questions, it is your responsibility to ask the instructors about the Code's application. All written work and other projects must be submitted with a statement that you have complied with the requirements of the Honor Code in all aspects of the submitted work.
COURSE MODEL: This course reflects a new model for legal education. Rather than simply focusing on helping students to learn to "think like a lawyer" (focusing on "thinking" skills, content knowledge, and very marginally on the roles and values of legal professionals) this course seeks to help students find new ways to understand the profession they will enter, develop new skills, and appreciate their personal and professional values and identities as they move toward professional careers. To that end, the course will be built according to the following models. It will introduce students in more depth to the contexts of the legal profession, help them build new "soft skills" of various sorts, and urge them to appreciate their values and personal/professional identity in order to identify their passions as they make career choices.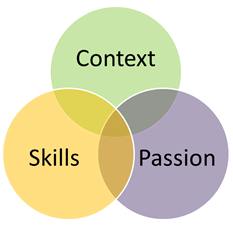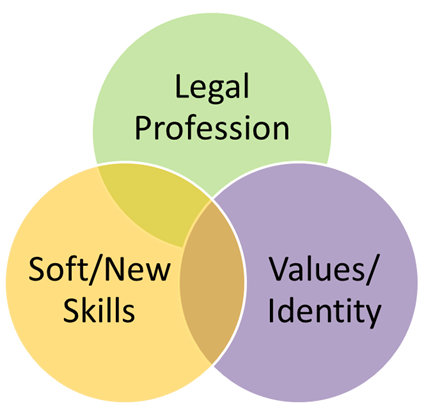 COURSE GOALS and LEARNING OUTCOMES: This course has three principal goals, and corresponding learning outcomes, suggested by the diagrams above.
(1)
Professional context.
What?

The course will assist you in developing stronger understandings of the varied contexts in which lawyers operate – contexts that differ greatly, call upon different skills, involve different economic features and organizational structures, offer different rewards and challenges, raise different opportunities to fulfill values and different threats to values, and hence present different prospects of success and "fit" to different people.
General developments affecting the profession: reading and discussion of trends
Particular developments and experiences in areas of personal interest to students: team reports and discussion leadership.
What?

The course will introduce students and help them to develop valuable professional skills not typically taught elsewhere in law schools, including the following: listening, client interviewing, nontraditional research, cross-cultural communication, teamwork, emotional intelligence, conflict resolution, oral presentations (outside trial and appellate settings), written communication (outside trial and appellate settings), self-reflection, strategic planning, work with knowledge management systems and automated document production systems
How?

The course will devote designated class sessions to developing skills in the designated area, and provide students with related practice opportunities. Students interested in developing skills relating to knowledge management and automated document systems are encouraged to select projects involving the "A2J" initiative (using CALI software to develop interview scripts and documents for pro se litigants in designated areas).
(3)
Professional identity and values.
What?

The course will offer students the opportunity to become more deeply acquainted with the values that legal professionals profess to share as well as the values that are important to themselves personally. It will also help develop a critical appreciation of how these values relate to one another. The course is premised on the assumption that a well-formed sense of professional identity and purpose is a hall mark of successful (and happy, personally fulfilled) lawyers, and that there is much that law school (and this course) can do to contribute to students' ongoing process of forming their professional identity
Professional values: readings and class discussions; work with A2J Author, pro bono projects
Personal values: values assessment, retreat, reflection exercises
OVERALL DESIGN: We have designed this course to provide students with opportunities for exposure to and practice involving a number of skills. As noted above, however, instruction relating to skills will be integrated into substantive discussion and consideration of values. Students will have the chance to:
Research (initial research memo, research of professional niche, incorporation of research in final project memo)
Make oral presentations in plain English (professional niche presentation and final "plain English" presentation to lay pro bono clients)
Engage in writing (research memo, story board, draft project report, final project report)
Develop teamwork skills (partner presentation on professional niche and final project critique)
Interviewing and counseling (meeting with attorneys to learn interviewing, story board and guided interview)
Explore cross-cultural practice (class discussion and plain English presentation to pro se clients)
Explore court documents (draft project outline, feedback and final project submission)
Practice project planning and project management (sequential development of project to provide assistance to pro se litigants, with guidance and support throughout, and revision in steps)
Develop reflection skills in the context of professional identity (reflection essays, retreat with attorneys, exploration of professional niches)
Technology (development of expertise in use of software to assist pro se litigants and, with feedback, to connect software platforms; consideration of role of technology to address gaps in access to justice).
COURSE PROJECT. Each student (or in some cases teams of students) will create a course project that provides an opportunity to appreciate more fully the work of lawyers and issues relating to access to justice; and to practice key skills introduced throughout the course. As will be explained on the first day of class, we have preliminarily developed a list of potential projects, most of which involve development of a guided interview (using A2J software) that in turn generates documents needed for the user to move ahead (using HotDocs software). In some cases, projects will require students to develop other kinds of written "help" materials. In addition, students are invited to suggest alternative projects that must be approved by the instructors shortly after the beginning of the term. Alternative projects should not be traditional seminar papers, but should instead be designed in the spirit of a proposed pro bono project similar to those suggested to the class more generally, and should be designed to benefit those with limited access to legal tools, and limited resources but who nonetheless need the benefit of advice from lawyers.
Project Steps and Time Line. We have broken down the steps to be taken in working through your project in order to help you learn about project planning and management and to show you the extensive feedback we plan to provide to support you through the process.
Revised Final Project
Revised Final Project
• Project: A2J Project (Guided Interview and Documents) or Other Project: (65%)
• Confirm project focus (1/25, 5 p.m.)
• Research Memo or Prospectus Proposal Memo (10%): 2/8, 5 p.m.
• Storyboard/Outline (10%): 2/22, 5 p.m.
• Draft project submission (15%): 3/6, 5 p.m.
• Plain English oral presentations (10%): 4/6, 4/13, 4/16 (during class)
• Revised Final Project (20%): 4/30, 5 p.m. (unless extended for good cause)
• Other Assignments
Reflection Exercises (two) (5% each) (10% total)

: #1 due 1/20, 5 p.m.; #2 due 4/20, 5 p.m.
• Class Participation (10 %) (value, not just volume)
• Work in Teams (15% total): Team Presentation (10%); Team contributions, feedback (5%)
READINGS AND CLASS ASSIGNMENTS WEEK BY WEEK
Introductory Notes on Readings. Materials are posted on the course website on TWEN (see URL above). Prof. Wegner has covered copyright charges for some materials so please do not distribute them.
PART I: INTRODUCTION AND OVERVIEW: PROFESSIONAL VALUES, Skills AND CONTEXT
January 12: Introduction; Professional Values and Their Role
What intellectual framework can be employed to link legal education and the legal profession?
What is meant by "professional identity" and what shapes that identity?
What is the role of "professional identity" in legal education and in lawyers' development?
How does "professional identity and values" relate to "personal identity and values?"
Neil Hamilton, Professionalism Clearly Defined, 18 Prof. Lawyer No. 4, 4 (2008)
Thomas Morgan, Calling Law a "Profession" Only Confuses Thinking About the Challenges Lawyers Face, 9 Univ. of St. Thomas L. J. 542 (2011)
Judith Wegner, Reframing Legal Education's "Wicked Problems," 61 Rutgers L. Rev. 867, 981-1003 (2009)
Neil Hamilton & Verna Monson, Ethical Professional (Trans)formation: Themes from Interviews about Professionalism with Exemplary Lawyers, 52 Santa Clara L. Rev. 921 (2012).
Exercise

(in class): A Tale of Two Stories (Giving Voice to Values) (outline on course website)
Reflection Exercise:

First reflection exercise distributed,

due 1/20 (copy on website)
Optional "Get to Know You" Dinner with Prof. Wegner and Ms. Pistolis (City Kitchen Restaurant, University Mall) (5:30-7 p.m.) (free)
January 19: No Class (Rev. Martin Luther King, Jr. Holiday):
Optional office meeting opportunities to discuss projects (as requested)
Project Focus Statement due 1/25
January 26: Introduction to Lawyer Competencies
What is meant by lawyer "competencies" or "effectiveness factors?"
Can "competencies" be taught in law school or only after graduation? Are different "competencies" more readily taught versus learned in practice?
What is meant by "emotional intelligence" and why might it be important?
How would you assess your "effectiveness" and "emotional intelligence?"
Consider an example: truth or lies?
Terri Mottershead & Sandee Magliozzia, Can Competencies Drive Change in the Legal Profession? 11 U. St. Thomas L.J. 51 (2013)
Neil Hamilton, Law-Firm Competency Models and Student Professional Success: Building on a Foundation of Professional Formation/Professionalism, St. Thomas (Minnesota) Legal Research Paper 13-22, Available at SSRN: http://ssrn.com/abstract=2271410 (last revised Aug. 9, 2013)
Robert Mines, Rachel Meyer, & Michael Mines, Emotional Intelligence and Emotional Toxicity,

The Colorado Lawyer 33(4), at 91 (2004)
M. Hartman, B Mordan, T Schoenfeld, P Sweeney, The Perfect Legal Personality, ACC Docket Vol. 29, No. 6 at 8 (July/August 2011)
Douglas Stone, interviewed by Karen Christensen, Difficult Conversations: How to Address What Matters Most (Harvard Business School, 22 Rotman Magazine Spring 2011) (please note that instructor has paid copyright fees for your use of this resource and you may not distribute copies other than downloading one for yourself) (limited access)
Exercise

: Harvard Business School exercise: Nonverbal communication
Saturday, January 31: Mini-Retreat: Life Journeys: Values, Skills, and the Profession
(9:30-3:30, Rizzo Center, Meadowmont, Chapel Hill) (with lawyer guests) (separate agenda)
Life Journey: exercise description (review in advance; to be completed at retreat)
Active Listening: background reading and exercise (review in advance)
Interviewing: exercise description (review in advance; to be completed at retreat)
Difficult Conversations 2.0

: Thanks for the Feedback (Rotman Management Spring 2014 at 71) (please note that instructor has paid copyright fees for your use of this resource and

you may not distribute copies other than downloading one for yourself)
Dilemmas: Values and Professional Judgment (Australian National University) (2 scenarios)
February 2: Changes in the Profession and Forces of Change
What are the changes that have affected the legal profession in recent years?
What are the most important forces that are likely in the future to affect the development of the legal profession?
What do law students and beginning lawyers need to do to prepare for change?
Exercise (in advance): Survey re your views on forces of change (Giving Voice to Values, adapted)
Options (choose one) (please try to opt for different choice from colleagues)
Or other comprehensive report on changes in legal profession or legal education
PART II: DEVELOPING KEY SKILLS
February 9: The New Role of Technology Part I (possible guest, Gray Wilson)
How can technological changes help address gaps in access to justice?
What excites (or scares me) about technology and law practice?
What is document automation and why should I care about it?
When does technology make a difference… for good or ill?
Jon Garon,

Legal Education in Disruption: The Headwinds and Tailwinds of Technology

, 45 Conn. L. Rev. 1165 (2013)
Review prior A2J projects to understand guided interviews and assistance
February 16: Conflict and Teamwork
Where does conflict come from? What is your conflict profile?
When and why are teams needed in professional contexts?
What are characteristics of good teams, in your view?
What leads to conflict within teams? What kinds of conduct can derail effective teamwork?
How can individuals learn to deal with conflict in teams and other settings more effectively?
Exercise: Style Matters: The Kraybill Conflict Style Inventory (Riverhouse EPress) (complete in advance)
Lynn Isabella et al, Teams and Teamwork: A Foundation. (August 2003). Darden Business School Working Paper No. 03-02. Available at SSRN: http://ssrn.com/abstract=439100 or http://dx.doi.org/10.2139/ssrn.439100
Michael Wheeler, Dana Nelson, Nonverbal Communication in Negotiation (Harvard Business School, 2009) (please note that copyright costs for students were paid by instructor; you may download one copy but may not distribute to others).
Difficult Conversations (Simulation, Harvard) and/or Lies video (HBS)
February 23: Technology and Guided Interviews: A2J and Story Boards
What was difficult about preparing a story board?
Practicing teamwork: trade story board with partner and share suggestions/comments
How do you turn a story board into a "guided interview" with A2J?
Review Wegner summary of major points re A2J software and its use
Review YouTube resources from CALI on use of A2J: https://www.youtube.com/watch?v=iTY9no-uwxw is launch video for version 5.0 (note that you should focus on version 5.0, which was launched in August 2014, rather than the earlier version that required PC use and download) (36 minutes) (watch it!);
Review story board and Q2J guided interview from Fall 2013 project (online)
March 2: Communication & Cross-Cultural Competence
What kinds of written work and what types of oral presentations are expected of lawyers?
What are the earmarks of effective written work and oral presentations?
What impediments exist to effective written work and oral presentations?
What issues are raised when lawyers work with clients, colleagues, and others who are "different?"
Why might professionals care about how effectively they work with others different from themselves?
How can professionals learn to work effectively "across difference?"
Sue Bryant, Five Habits of Cross-Cultural Lawyering, 8 Clinical L. Rev. 33 (2001)
Andi Curcio, Teresa Ward, & Nisha Dograal, A Survey Instrument to Develop, Tailor, and Help Measure Law Student Cultural Diversity Education Learning Outcomes, 38 Nova L. Rev. 177 (2014).
Serena Patel, Cultural Competency Training: Preparing Law Students for Practice in Our Multicultural World, 62 UCLA Rev. Discourse 140 (2014)
Exercises in class

: plain English;
http://www.plainlanguage.gov/examples/before_after/index.cfm
http://www.plainlanguage.gov/examples/legal/index.cfm
Spring Break: March 7-15
PART III Pulling It All Together: My Future, My Contribution
March 16: My Piece of the Profession (probably only time for 8 teams?)
Exercise.

Each team of students will assign advance reading and present on a subfield of possible professional practice or area of work that is of special interest to them. Student teams will have 10 minutes to present with five minutes for questions thereafter. For more details, see separate assignment sheet with exercise description and related tasks.
March 23: My Piece of the Profession & Automated Document Production (Hot Docs)
Exercise

: Finish team presentations not completed on March 16
How does HotDocs relate to A2J?
What can I do if I'm stuck?
March 30: Optional class work session on A2J and Hot Docs
April 6: Project Presentations Round 1
Presentation Exercise: (7 students)
Give 10 minute presentation in plain English of core content relating to your project
Receive constructive critique from others
April 13: Project Presentations Round 2
Presentation Exercise: (7 students)
Give 10 minute presentation in plain English of core content relating to your project
Constructive critique from others
April 16: Project Presentations Round 3 (constructive Monday)
Presentation Exercise: (6 students)
Give 10 minute presentation in plain English of core content relating to your project
Constructive critique from others
Class ends: wrap up, evaluations, assessment of team/feedback and class participation in class
Peer critiques of draft projects due back to teammate authors
April 30: Final Projects due by email to Judith Wegner (Judith_wegner@unc.edu) unless given extension for good cause
CHRONOLOGICAL SUMMARY OF ASSIGNMENT DUE DATES
January
•
1/20:

First reflection exercise due
•
1/25:

Project focus proposal submitted for review and approval
February
•
2/8: Research/prospectus memo due for review; team assignments confirmed
•
2/22: Storyboard outline for review in discussion in class 2/23
March
•
3/6: Draft project submission submitted for review
•
3/16 & 3/23

Team presentation on subfields
•
3/30 Optional workshop on A2J and HotDocs
April
•
4/6, 4/13, 4/16: Final oral "plain English" presentations/videotaping
•
4/16: Comments from teammates due to student and professors
•
4/20: Reflection paper #2
•
4/30 Final Project paper due (or extension if authorized)


Possible BAP Projects Spring 2015
Homestead Property Tax Exemption (Mark Dorosin)
Elderly/Disabled Property Tax Exemption (Mark Dorosin)
Bankruptcy/Consumer Protection (Laura Collins Britton & students))
Criminal expunctions or relief from collateral consequences (more; some already done)
Emancipation (Tamar Birckhead)
Immigration? (Deborah Weissman?)
Domestic Violence (Beth Posner?) (several?)
Military (Dave Fitzgerald?)
Small claims magistrates?
Student-generated projects?
More expansive video/plain English projects with supporting documentation (several?)
http://www.lawhelpnc.org/ and www.lawhelp.org
Examples of A2J Projects for NC Legal Services (Fall 2013)
Real property:
When your landlord (or someone else?) disposes of your property…
Outline
How to value your property
Filing a complaint in small claims court
Preparation for the hearing
At the hearing
Tenant security deposits
Your security deposit
Complaint for money owed
Estate planning/elder law
Simple wills
Filing for guardianship for person unable to manage his/her financial and personal affairs using AOC forms
Commercial/Consumer law:
Car repair claims (not done properly, won't correct, damages <$5k)
How to Sue in Small Claims Court
Complaint for Money Owed
Hearing in Small Claims Court
NC Vehicle Repair Act
Prohibited actions by debt collectors
Resources:
Prohibited acts by debt collectors
Legal Aid letter
How to deal with debt collectors
Sample script to follow when negotiating with collector/creditor
Sample confirmation letter
Phone log
Criminal law
Relief from collateral consequences
Certificate of Relief from Collateral Consequences removes some consequences
Not an expunction/pardon
Eligibility, procedure, evidentiary standard
Civil situations generally

(not sure whether this area should be separated, but maybe)
Civil summons
Petition to sue as indigent & Civil affidavit of indigency
Family law
Modifying child custody order
Calculating child support using AOC worksheet forms
Student-initiated projects:
Info for artists with limited means (team project)
Info for faculty inventors re patent (triage for tech transfer)
Military benefits 1